University Representative Ricardo Oropeza
Ricardo Oropeza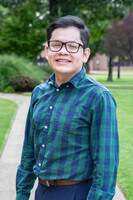 Recruitment Territory:
Northeast Oklahoma and Northwest Arkansas
Email:
oropezar@nsuok.edu
Phone:
918-444-4680
Text:
918-553-5698
I am a University Representative for Northeastern State University. I work with all prospective students from Northeast Oklahoma and Northwest Arkansas. As a recent graduate from NSU, I am very excited to share my journey as RiverHawk with you all!
I find NSU to be quite unique. I lived in Tahlequah, OK for approximately four years prior to starting my freshman year of college in 2016. When I came to NSU, it almost felt like I was living in a completely different town, but in the best way possible. The size of the school was a perfect middle ground for me. The student life on campus made a huge impact my freshman year. There were so many different student organizations to join, and everyone on campus was so friendly and welcoming.
I started to enjoy college a lot more when I got involved on campus. I know getting involved or breaking out of your shell can be nerve-racking, but it is so rewarding in the long run! A few organizations I was a part of include: a student-led university dance company, Welcome Week, and various honors societies! I made some incredible friends, met some great people along the way, and I was presented with some great opportunities for my academic career. I always encourage everyone who comes to NSU to join at least one student organization because it makes a great impact during your college journey!
College will be a completely new ride for all of you, but it will be one of the greatest experiences of your life. Make the best out of it and enjoy the ride! During my undergraduate career of NSU, I enjoyed all of it. All four years, I learned and grew so much as an individual. NSU became my home, and I am very proud to be an NSU RiverHawk!
If you have any questions about NSU or how to become a RiverHawk, please feel free to reach out to me. I am more than happy to share my experience at Northeastern State University and what this amazing university has to offer!
About Ricardo
HOMETOWN:
Dutch Harbor, Alaska
EDUCATION:
B.B.A. Business Administration-International Business, Northeastern State University
FAVORITE ASPECT OF NSU:
My favorite aspect of NSU is the student life! There is always something happening on campus because of the multiple student organizations at NSU! NSU has a large number of student organizations, making it easier to meet new people and getting involved on campus. When it comes to joining a student organization, there is something for every student! The student life brightens the campus and the Tahlequah community.
WHY I LOVE MY JOB:
As a recent graduate of NSU, I realized how much I love college and this university. I wanted to work in a university setting where I was given the opportunity to help students transition into college. I want to be able to tell my story as a RiverHawk and my college journey. Being a University Representative for NSU gives me the opportunity to do so, plus I get the great benefit of traveling all over the state!
FAVORITE SPOT ON CAMPUS:
My favorite spot on campus is the John Vaughan Library. The library is the perfect place to study and/or do homework. There are three floors and a lot of quiet spots throughout the building. Additionally, the library offers multiple resources and staff that can help with any type of research project or assignment!
FAVORITE NSU SPORT:
My favorite NSU sports to watch are basketball and soccer. Both have a men's and women's team, and they are all really good! Sometimes, the games get really intense, so it is very exciting to watch them play! Going to the football games is also super fun, especially because of tailgating season!
ADVICE TO PROSPECTIVE STUDENTS:
The best advice I could give to a prospective student is to get involved and to network yourself. Getting involved leads you to networking. Joining student organizations is a great start. Not only does getting involved on campus make your college experience much better, but you also are exposed to networking yourself, which can lead to some great opportunities that can be incredibly beneficial to you in the long run for your career. I am always grateful that I joined multiple student organizations because of the opportunities I was given.