University Representative Sara Ryals
Sara Ryals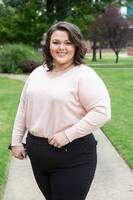 Territory:
Southeast Oklahoma
Email:
ryalss@nsuok.edu
Phone:
918-444-2137
Text:
918-553-5010
I am a University Representative for Northeastern State University. As I am a recent graduate, I am so excited to have the opportunity to tell everyone about my time on campus and what our university has to offer.
To me, NSU represents family, opportunity, and dedication. As the campus began as the Cherokee Female Seminary, our very roots are tied to a culture's profound dedication to education and perseverance. I always like to say, from the inside looking out you can't explain it and from the outside looking in you can't understand it. NSU is a place you have to experience. The deep ties, stories, and friends like family are what make this place so unbelievable. The relationships with peers and professors are what made me miss NSU when I was away.
NSU became my home. As a Tahlequah local I was so scared that I wouldn't be able to tell the difference in my time as a concurrent student and my time as a college student. I was so wrong. Getting involved on campus through leadership programs, The Big Event, RBC, and Greek Life, transformed NSU into my favorite place. When I was away, I would wish to be back. When I reflect on my time here it is so crazy yet so accurate that my college dorm and college campus became my favorite places on Earth.
As you head off to college, no matter where you go, buckle up. You are about to set out on the ride of a lifetime. Remember, your time is what you make it. Step out of your comfort zone. Make lifelong friends and memories you will reflect on the rest of your life.
I am passionate about NSU because the people, programs, and professors here helped mold me into who I am. I hope you consider becoming a part of the RiverHawk family. If you have any questions about embarking on the NSU experience, feel free to reach out to me. I would love to show you all the ways NSU can help you go far.
about sara
HOMETOWN:
Tahlequah, OK
EDUCATION:
Media Studies B.A., Northeastern State University
FAVORITE ASPECT OF NSU:
My favorite aspect of NSU is the RiverHawk family! There was not a time I would walk across campus without someone saying hi to me. Because everyone was so welcoming, it was easy to get involved on campus and add people and opportunities to my story as a RiverHawk.
WHY I LOVE MY JOB:
I love my job because I love NSU. I want to be able to share my passion for my alma mater as I travel across Oklahoma and meet new people. This job allows me to do just that!
FAVORITE SPOT ON CAMPUS:
My favorite place on campus is the River's Edge coffee shop. There are always tons of smiling faces ready to say hi. It is a great spot to study or to simply chat with friends. The staff in the coffee shop are also notoriously friendly and can make any bad day better!
FAVORITE NSU SPORT:
I love RiverHawk football because I love tailgating season! NSU organizations always show up and show out on Saturdays. Students are decked out in green and fun outfits. It is a great way to socialize and cheer on RiverHawk football!
ADVICE TO PROSPECTIVE STUDENTS:
Step out of your dorm room and step out of your comfort zone. No matter who you were in high school or your previous college, what your past consists of, or what story you carry with you now, NSU has a niche for you. Be brave and bold in creating your new story and molding your future. Opportunity happens here.