University Representative Zephram Foster
Zephram Foster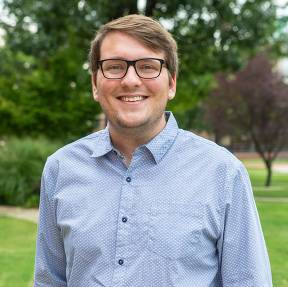 Recruitment Territory:
Northeast Oklahoma
Email:
fosterz@nsuok.edu
Phone:
918-444-4679
Text:
918-553-5576
I am a University representative for Northeastern State University who works with students in Northeast Oklahoma, as well as students from Northwest Arkansas, Southwest Missouri, and Southeast Kansas. I just recently graduated from here at NSU with a bachelor's degree in Computer Science, and I loved every second of my experience here!
NSU is truly a home away from home. I believe the environment is as close to perfect as a college can get. The small class sizes make you feel known and welcomed, the historic nature of the university makes you feel like a part of something much greater, and the beautiful campus will be the place you make memories you'll keep the rest of your life.
My favorite thing about NSU is how you can get the true college experience, be involved in tons of activities, attend sporting events and tailgates, all while still feeling like the university is small enough to be your own. I know you'll discover, just as I did, that NSU is truly the best of both worlds.
In my time at NSU I was involved in things like Baptist Collegiate Ministries, Campus Christian Fellowship, and Honors. I participated in many of the wide variety of things to do, like performing music at the NAB Open Mic Nights, and checked out various clubs throughout my 4 years. The sheer number of student-led organizations on campus meant I never went a semester looking for something to be involved in there was always something!
The best advice I can give is to be confident, and put yourself out there. College will truly fly by, so make the most of the time you have with us here at NSU!
I can assure you that your time here at NSU will be something you cherish forever, and I would love to be able to share the experience with you any way that I can. If you ever need anything at all, please reach out to me!
About Zephram
HOMETOWN:
Tahlequah, Oklahoma
EDUCATION:
Computer Science, B.S., Northeastern State University
FAVORITE ASPECT OF NSU:
My favorite aspect of NSU is the perfect size. The class sizes are small enough that you get to really know your professor on a personal level, and always feel like you can go to the faculty for help. At the same time, NSU is big enough that you really feel like you're getting the full experience and living in a whole new place!
WHY I LOVE MY JOB:
I love my job because it allows me to connect with awesome students from all around the state, and even outside of it! I absolutely love getting to meet great people, and help them follow their passions here at NSU. Since I have such a passion for NSU, it always excites me to get to help students start their journey here!
FAVORITE SPOT ON CAMPUS:
The second floor of the library was always my favorite place to get some quiet, and really work on what I needed to get done (plus they allow food and drink)!
FAVORITE NSU SPORT:
Riverhawk Basketball is what I love! I am a huge basketball fan, so getting to watch our athletes compete on the court is always a fun time!
ADVICE TO PROSPECTIVE STUDENTS:
Get involved! Put yourself out there and make friends. Take advantage of the great clubs and activities NSU offers, because college will be over before you know it! Make the most of your time, and have fun!