Payroll
The goal of the Payroll Department is to provide friendly, helpful service to employees and their departmental employers. We strive to provide timely and accurate pay information. We currently process two types of payroll each month. We process a bi-weekly and monthly payroll. This service is provided to over 2,800 employees annually.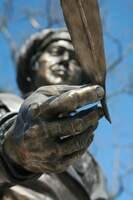 Contact Us
601 N. Grand Ave.
Tahlequah, OK 74464-2302
Phone: 918-444-2162
Fax: 918-458-2302
Email: payroll@nsuok.edu
---
The Payroll Department is located in Room 118, offices D, E, F, G, in the Administration Building on the Tahlequah campus. We are adjacent to the Human Resources Department on the main floor.
Please contact the following staff for payroll related questions:
Kathy Seymour
Payroll Team Lead
918-444-2190
seymour@nsuok.edu
Anthony Hall
Payroll Technician II
918-444-2162
hall10@nsuok.edu