RiverHawk Food Pantry at Broken Arrow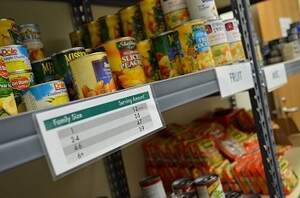 Give back. Established in spring 2014, the RiverHawk Food Pantry can assist students in times of need. This donation-based program is a great way for students to give back and support their RiverHawks family.
The RiverHawk Food Pantry is open to all NSU students.
Accessing the Food Pantry
Students are asked to fill out an intake form the first time they access the pantry. After the initial use, students simply need to present their NSU ID when visiting the pantry. This is used for reporting purposes to help us determine how often the pantry is being used.
Registration
The RiverHawk Food Pantry registration will allow the pantry to do more accurate reporting of use and allow patrons to register in a way that is convenient for them. After registering online, students will still need to present their NSU ID when visiting the pantry.
Donate
The RiverHawk Food Pantry is in constant need of donations. Our most needed items include:
Peanut butter and jelly
Noodles
Rice
Canned fruit
Canned meats: tuna, chicken, salmon, spam
Low sodium canned soup
Mixed vegetables
Pre-packaged items such as ramen, mac and cheese, shelf stable microwave meals
Personal hygiene items including shampoo, toothpaste, and toothbrushes
Feminine hygiene products
Laundry detergent
Household cleaning items
Paper products such as toilet paper, paper towels, tissues, etc.
Donation Drop Off Locations
Broken Arrow
Administration Building, first and second floor outside the Student Affairs offices
Education Building
Liberal Arts Building
Financial Donations
Financial donations can be made payable to the NSU Foundation. Please note "NSUBA RiverHawk Food Pantry" on the memo line. Financial donations may be dropped off in the Administration Services Building 211, Basement or mailed to the NSU Foundation, 812 N Cedar Ave, Tahlequah, OK 74464.
Broken Arrow
Location
Administrative Services Building, Suite 130
Days and Hours
Monday, 1 p.m. - 5:30 p.m.
Thursday, 1 p.m. - 5:30 p.m.
Contact
Email: studentaffairsba@nsuok.edu
Phone: 918-449-6200