Rowdy's Resource Room at Tahlequah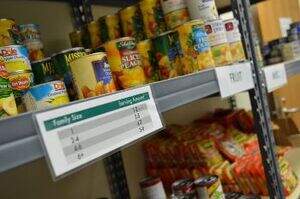 Give back. Established by students in spring 2014, the RiverHawk Food Pantry on the Tahlequah campus to assist students in times of need. Now expanded and rebranded in 2017 as Rowdy's Resource Room, this resource provides non perishable food, gently used clothing, and office/school supplies. This donation-based program is a great way for students to give back and support their RiverHawks family.
Rowdy's Resource Room is open to all NSU students.
Location, Hours, & Contact Information
Tahlequah- Center Leoser Hall, Down the hall from Pizza Hut Express and behind The Chatterbox.
Monday through Friday 9:00am-1:00pm CST


Broken Arrow- Administrative Services Building | Student Affairs Lower Level Suite BAAS 121
The Rowdy's Resource Room is currently closed, but access can be granted by emailing commengage@nsuok.edu
engagement@nsuok.edu or 918-444-2526
Accessing Rowdy's Resource Room
Students are asked to fill out an intake form the first time they access Rowdy's Resource Room. After the initial use, students simply need to present their NSU ID when visiting. This is used for reporting purposes to help us determine how often the Resource Room is being used.
Registration
The Rowdy's Resource Room registration will allow the staff to do more accurate reporting of use and allow patrons to register in a way that is convenient for them. After registering online, students will still need to present their NSU ID when visiting Rowdy's Resource Room.
Donate
Rowdy's Resource Room is in constant need of donations. Our most needed items include:
Food Items:


Peanut butter and jelly
Noodles
Rice
Canned fruit
Canned meats: tuna, chicken, salmon, spam
Low sodium canned soup
Pre-packaged items such as ramen, mac and cheese, shelf stable microwave meals

Personal hygiene items:

Shampoo
Toothpaste
Toothbrushes
Feminine hygiene products
Mouthwash
Hand soap
Razors
Body wash

Household cleaning items:

Laundry detergent
Dryer sheets
Cleaning Wipes
Window Cleaner
Brooms
Mops or Swiffers
Waste Baskets

Paper products such as toilet paper, paper towels, tissues, etc.
School Supplies:

Notebooks
Pencils
Pens
Binders
Padfolios
Index cards
Highlighters
Sticky notes
Backpacks
Folders
Tahlequah Donation Drop Off Locations
North entrance of the Library
Seminary Hall main entrance
First floor of the University Center, outside the main office
Main Office of Housing in the Leoser Complex
First floor of the CASE building
Science Building
The Department of Student Engagement Office, basement of the UC
Orientation & Community Engagement Office, basement of the UC
Donations also accepted at Rowdy's Resource Room
Financial Donations
Financial donations can be made payable to the NSU Foundation. Please note "Rowdy's Resource Room" on the memo line. Financial donations may be dropped off on the Tahlequah campus in Student Engagement in the University Center, Basement or mailed to the NSU Foundation, 812 N Cedar Ave, Tahlequah, OK 74464.