Riverhawks Esports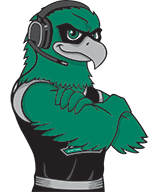 The 20-student varsity team will compete remotely against other colleges in the video games
Valorant, League of Legends, Call of Duty, Overwatch, Smash Bros, and Rocket League.

Selected students will also have the opportunity to receive one of 10 scholarships for $1,000.
For more information about the NSU RiverHawks Esports Team, tryouts and scholarship eligibility, email
edward64@nsuok.edu,
call 918-444-3982, or fill out the form below.