Degrees of Excellence
The University Mission and Vision support the institutional priorities of academic and scholarly excellence, student development and success, and institutional effectiveness through dynamic assessment and measurement. Guided by these priorities, NSU established an infrastructure to sustain excellence in the 21st century through a culture of assessment and continuous improvement.
The Degrees of Excellence institutional learning outcomes articulate high expectations for students' success, and provide an inclusive framework for a distinctive educational experience that emphasizes lifelong learning, intellectual growth, citizenship, and social responsibility. These outcomes build upon the Lumina Foundation's Degree Qualifications Profile and are informed by the American Association of Colleges and Universities LEAP Essential Learning Outcomes. They reflect NSU's heritage, mission, vision, and values. The Degrees of Excellence outcomes allow all NSU stakeholders to more clearly understand the connections between the NSU educational experience and cultivated skill sets needed after graduation. They also provide a foundation for meaningful assessment at the institutional level. These outcomes provide evidence of student learning as well as data which can be used to improve institutional communication, professional practices, and educational quality.
The Degrees of Excellence institutional learning outcomes are:
Intellectual skills emphasizing analytic inquiry, information literacy, engaging diverse perspectives, quantitative fluency, and communication fluency.
Integrative knowledge emphasizing the ability to produce, independently or collaboratively, an investigative, creative, or practical work that draws on specific theories, evidence, tools, and methods from diverse perspectives.
Specialized knowledge in the major emphasizing student competency in the program outcomes of the major field(s) of study.
Capstone Experience in the Baccalaureate Degree emphasizing the integration of the major with baccalaureate degree expectations reflecting the intersection of academic and post-baccalaureate settings.
Citizenship emphasizing leadership and engagement, experiential learning, cultural foundations, and personal and career development.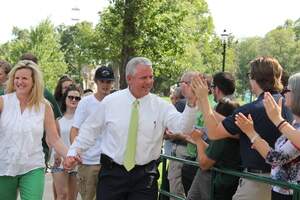 Our Vision
Northeastern State University shapes the future of its region as the educational partner of choice, setting a standard of excellence by serving the intellectual, cultural, social, and economic needs of the University's diverse communities.
Our Mission
Founded on the rich educational heritage of the Cherokee Nation, the campuses of Northeastern State University provide its diverse communities with lifelong learning through a broad array of undergraduate, graduate, and professional doctoral degree programs. With high expectations for student success, the University provides quality teaching, challenging curricula, research and scholarly activities, immersive learning opportunities, and service to local and professional communities. The institution's dedicated faculty and staff offer a service-oriented, supportive learning environment where students prepare to achieve professional and personal success in a multicultural and global society.