Advising
---
YOUR NSU ADVISING SUCCESS TEAM
NSU's Advising Model
NSU employs a shared model of academic advisement that allows for comprehensive and continued review of a student's pursuits throughout their academic career using professional advisors and faculty mentoring. All new students must receive academic advisement upon admission to Northeastern State University.
Academic Advisors are full-time, professional advisors whose responsibility is to assist all undergraduate students after admission through graduation.
Academic Advisors in the University Advising Center serve first-time freshmen and undeclared students to assist them with acclimation to student life and to ensure enrollment in appropriate general education and prerequisite coursework for the student's intended major.
Academic Advisors in the Colleges (Business & Technology, Education, Liberal Arts, Science & Health Professions) serve declared undergraduate majors. College advisors provide academic information and assistance to students declared in the colleges' majors, helping students navigate all aspects of the degree and connecting them with Faculty Mentors in the declared discipline.
Faculty Mentors serve declared undergraduate majors and graduate students in the appropriate discipline, focusing on career advice, internship opportunities, research opportunities and future academic pursuits. Faculty mentors have in-depth knowledge of their field and are the best resource for expanding students' understanding of the discipline.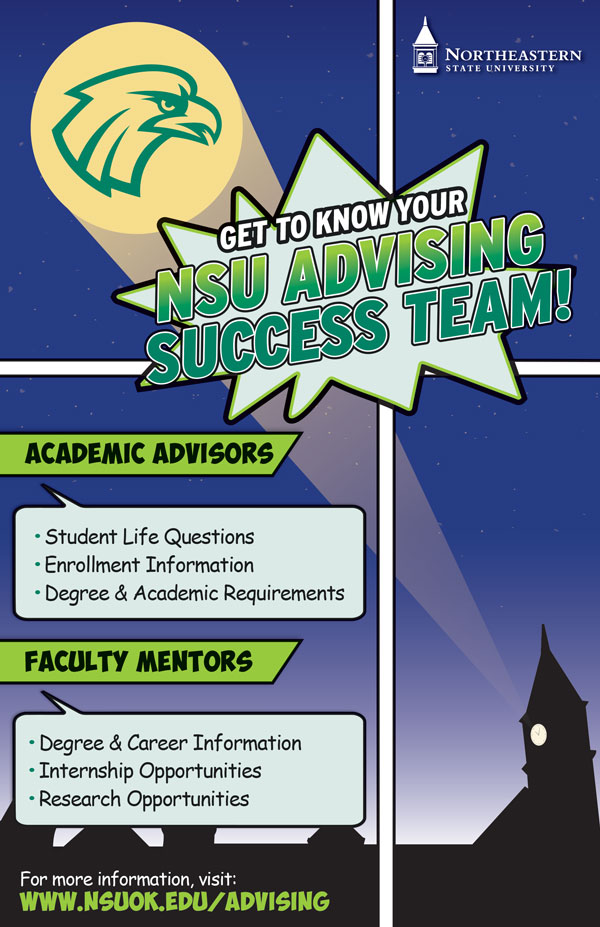 STUDENT RESPONSIBILITY
Students are responsible for adhering to all policies, procedures, and regulations of Northeastern State University, including the responsibility for meeting all graduation requirements and for checking their degree audit for accuracy. Advisors may not substitute, waive or exempt students from any established requirement or academic standard. While advisors make every effort to provide accurate and current information, all advising information regarding coursework, academic progress, and graduation is considered unofficial. The NSU Registrar's office is the official and final authority for all program, degree, and graduation requirements.