NSU WORKS | YOUR WORKFORCE DEVELOPMENT PARTNER

---
PREPARING THE WORKFORCE OF THE FUTURE | FOR THE FUTURE
Northeastern State University is committed to meeting workforce demands by evaluating the future of work and providing education and training to solve workforce challenges. Our approach combines traditional education with dynamic offerings tailoring the learning experience to recruit, upskill, and retain your most valuable asset: employees.
We are making it our mission to strengthen organizations with quality education AND TRAINING opportunities.
WHAT DOES THIS LOOK LIKE?
There is nothing cookie cutter about preparing for the workforce. The key to our workforce development approach is three pronged: flexibility, affordability, and quality. Northeastern State is taking a customized approach to meet individual and employer needs. Options include single courses, certificates, degrees, or non-credit workshops and seminars. Our robust lineup allows you to pick the best pathway necessary to meet your unique needs. These pathways will help your organization recruit, upskill/reskill, and retain qualified employees resulting in higher productivity and engagement levels.
FLEXIBILITY, AFFORDABILITY, QUALITY.
---
Your organization thrives when you invest in your people. As an institution our purpose is to empower our community to reach their full intellectual and human potential. Together we get there by providing flexible, affordable, and quality opportunities to recruit, upskill, and retain our workforce.
FLEXIBILITY
1. Three campus options across Northeastern Oklahoma and/or online options bringing training and education to your doorstep.
2. Nimble training and education options ranging from workshops, certificates, digital badges, and full degree programs. With options to earn college credit for working experience and qualification for CEU/PDU hours.
AFFORDABILITY
1. One of the most affordable tuition rates in the state of Oklahoma.
2. Seamless processes to encourage more employees to use your robust benefit package, including tuition assistance!
QUALITY
1. Our instructors are expert practitioners in their field.
2. Our curriculum is based on industry best practices resulting in more efficiency, innovation, and effectiveness in your organization.
Contact Us
Unsure of next steps but know your organization needs something? Are you struggling with productivity from your employees? Or have you identified a clear skills gap? We believe the first step is conversation. Contact us to discuss employee development needs, and we can assist in paving a path towards growth and success.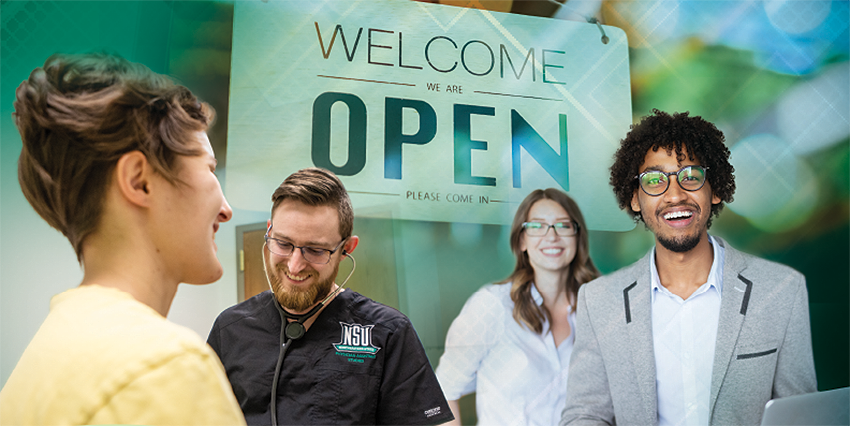 Skill, competency, or degree attainment, we are ready to help you invest in your people.
workforce@nsuok.edu