New Student Orientation, Advising, and Registration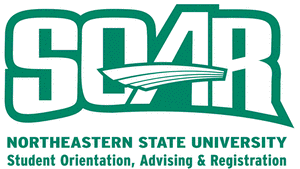 SOAR stands for Student Orientation, Advising, and Registration. SOAR has been designed to assist you in setting you up for success in the classroom and helping you adjust to life at Northeastern State University.
Worried about classes, finding support, or if you will be successful? No worries needed as the SOAR staff is here to help!
With our summer SOAR Programs you will spend the day on campus participating in events that focus on campus information, next steps, and important people to know. During the SOAR day, you will also register for classes and complete other essential tasks.
For First Time Students Starting in Fall 2022, click the link below to register for SOAR!
---
cLICK HERE tO REGISTER FOR SOAR
Tahlequah Transfer Students, schedule your session by contacting Transfer Student Services at
918-444-3651.
Broken Arrow Transfer Students, schedule your session by contacting Broken Arrow Student Affairs at
918-444-3651.
What should I expect at my SOAR session?
Regardless if you participate in the mandatory transfer or first-time freshmen SOAR sessions both programs have these main outcomes:
Collaborate with their advisor in planning and enrolling in an appropriate class schedule.
Establish a sense of belonging on campus, and classify themselves as a RiverHawk.
Connect with other members of the RiverHawk community, including other incoming students, current students, or faculty / staff.
Determine the next steps needed in order to prepare for a successful first year at NSU, including financial needs, housing requirements, and other components of their First Year Experience.
Recognize the various offices, departments, and programs available at NSU that can support them.
Prepare for a successful time at NSU focusing on both academic and social aspects of campus life.
What else should I know about my SOAR session?
For First-Time Freshmen, a few things to make note of about your session:
SOAR will be a full day experience for new students. This experience will include learning about various components of campus and allowing you to think about your first year at NSU. We require that new students complete the SOAR sessions before their advising appointment, so it is an important part of the transition to NSU.
When you register for SOAR, you will select a day to attend that works best for you. During your day at SOAR, you will meet with an advisor and enroll for classes.
ACT scores determine whether you are required to take a placement exam prior to your SOAR session to ensure correct enrollment into one or more of your college courses. If testing is required, you will receive a separate email from NSU's Testing Services office, or you may call to find out which exams you may be required to take: 918-444-2139. If you are required to test and have not done so prior to your advising appointment, your advising appointment will be rescheduled.
If you have any questions about the SOAR program, you can call Student Engagement at 918-444-2526, or email us at soar@nsuok.edu
For incoming Tahlequah Transfer Students, a few things about your session:
Your orientation session will take place with Transfer Student Services.
Please plan to spend two hours at your appointment.
You must sign-up in advance by calling the Transfer Student Services at 918-444-3651.
For additional academic resources, visit Academic Advising.