Assessment Forms and Templates
The primary goal of learning outcomes in program assessments is to continue the improvement of quality education offered by Northeastern State University, and thus the process is cyclical in nature. Assessment is an ongoing process that should grow and change as programs evolve and develop.
Every Fall-Spring semester faculty and staff should be gathering and analyzing data from the previous assessment year.
During the Spring-Summer semesters, faculty and staff should be preparing their data and assessment reports for submission. Assessment Reports are due September 1.
At the end of the assessment cycle, in the fall semester, faculty and staff should be reviewing and revising their assessment plan as needed.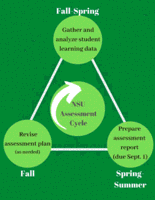 Academic Assessment
Academic assessment is the process to measure student learning outcomes and NSU's Degrees of Excellence in both bachelors and masters programs at Northeastern State University.
Co-Curricular Assessment
Co-Curricular assessment is a measurement of out-of-the-classroom experiences. These are intended to reinforce academic learning by practicing skills and knowledge sets aligned with NSU's Degrees of Excellence.