University Representative Madeline Anele
Madeline Anele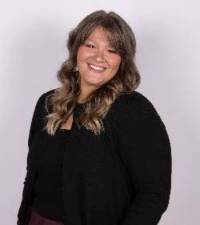 Recruitment Territory:
Diversity Recruitment
Email:
kellner@nsuok.edu
Phone:
918-444-4674
Text: 918-553-5392
I am a university representative with a diversity focus here at Northeastern State University. That means that I serve a variety of schools and a variety of people, which I seriously enjoy!
I graduated from NSU with my bachelor's in English education and a minor in Humanities in 2017. During that degree, I got to travel to Austria and teach in and the Amadeus International School in Vienna as part of my student teaching experience at Northeastern. That experience was amazing and I learned so much.
After graduating, I immediately entered NSU's graduate program in English. During the first year of my master's, my husband and I found out we were expecting our first baby. NSU was so supportive during that time and there were even a few professors that worked with me when I had to bring my baby to class!
Northeastern State is such as supportive community and I love being able to share my story with prospective students. Whether it is the care of individual faculty and staff or the fun events like The World Fair each year, there are so many ways to get involved and gain a sense of belonging here.
If you are interested in learning more about Northeastern State University, I would love to answer any questions you have and show you ways to get connected on campus.
about madeline
HOMETOWN:
Griggsville, IL
EDUCATION:
BA. Ed. in English Education, Northeastern State University
M.A. in English, Northeastern State University
ED. D. Higher Education Leadership, Azusa Pacific University
FAVORITE ASPECT OF NSU:
My favorite aspect of NSU is the inviting campus culture. Everywhere you go there are people ready to make you feel at home and help you be successful. It really feels like the NSU community cares about you.
WHY I LOVE MY JOB:
I love my job because I am able to make so many connections with the foundation of being able to share want an awesome experience I had at NSU as a student while helping to promote those same experiences to others.
FAVORITE SPOT ON CAMPUS:
My favorite spot on campus when I was a student was a particular coach on the top floor of the library, where it was absolutely silent. I would go up there and overlook the campus while doing my readings for class.
FAVORITE NSU SPORT:
My favorite NSU sport is men's soccer. I think they bring so much to the table and not only represent NSU well on the field but show off the beauty of diversity that can be found on our campus.
ADVICE TO PROSPECTIVE STUDENTS:
Be intentional about making connections. There are so many people on campus that want to support you and empower you, they just have to meet you first! What's that quote? "Building a network builds your net worth!" They are more than happy to help.