University Representative Skyler Porras
Skyler Porras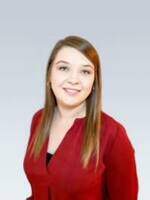 Recruitment Territory:
Tulsa Community College
Email:
conleys@nsuok.edu
Phone:
918-449-6126
Text:
918-553-5887
I am the Transfer University Representative for Northeastern State University. I work with prospective students from Tulsa Community College who are interested in attending NSU. As a recent graduate from NSU, I love being able to share my experience as a RiverHawk with future students! My time at NSU helped me become who I am today, and that is why I am passionate about sharing what our university has to offer.
There are so many things I love about NSU, but one of my favorite things about NSU is that there is something on campus for everyone. Being involved on campus made a great impact on my college experience, and it is the best way to meet new people which can be especially helpful when transferring to a new university!
I came to NSU from a very small town, so I was worried that NSU would be too big for me, but once I got there I found that it was the perfect size. It is big enough that you get the "big college" experience, but it's small enough that every time I walk across campus I run into someone I know and can say hi to. All of my professors knew me by name, and I never felt that my classes were too big.
Even though you all have college experience already, transferring to NSU will be a completely new journey. I would love to help you through that transition and into your journey here at Northeastern State University. If you have any questions about NSU or how to become a RiverHawk, please feel free to reach out to me. I am more than happy to answer any questions you may have about NSU or how transferring to NSU can help you achieve your goals!
About Skyler
HOMETOWN:
Clayton, Oklahoma
EDUCATION:
Psychology, B.A. - Northeastern State University
Higher Education Leadership, M.S. - Northeastern State University
FAVORITE ASPECT OF NSU:
My favorite part of NSU is how friendly everyone on campus is! Every time I walk across campus I run into at least one person to stop and talk to. I also love how all of the professors here truly care about the students and want you to succeed. Students here are not just a number. The professors want to make sure that you are doing well and understand the material in their courses.
WHY I LOVE MY JOB:
I love my job because I love getting to meet and talk with students from all over the Tulsa area. When I was a student NSU became a second home to me, and I love showing them that NSU could become a home to them as well.
FAVORITE SPOT ON CAMPUS:
My favorite spot on the Tahlequah campus is Second Century Square. It always looks so pretty with the trees surrounding it, and I love when they dye the fountain green for Homecoming! My favorite spot on the Broken Arrow campus is the library. It is a great place to spend time in between classes and work on homework, and the librarians and staff are always super helpful!
FAVORITE NSU SPORT:
My favorite NSU sport is basketball! I have always been a huge basketball fan, and I love to go out and support our men and women's Riverhawk basketball teams!
ADVICE TO PROSPECTIVE STUDENTS:
Get out of your comfort zone and get involved! Getting involved is the best way to make friends and network on campus. Getting involved can also make your college experience much more enjoyable and allows you to have new experiences you would not otherwise have!