Broken Arrow Conferences and Events Facilities
Make A Reservation
×
BOOK THE PERFECT VENUE FOR YOUR SPECIAL OCCASION AT NSU BROKEN ARROW
banquet hall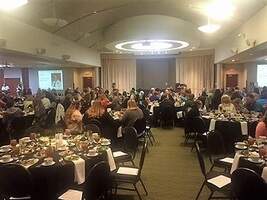 Our spacious banquet hall can seat up to 400 at round tables or more than 500 theater style. This room lends itself to wedding receptions, corporate events, vendor fairs or proms. It is equipped with three projectors, sound system, wireless microphones, variable lighting options and an adjacent catering kitchen. It includes a stage and podium, coat check room, and spacious lobby for registration and greeting. Feel free to bring in your dance floor and DJ!
annex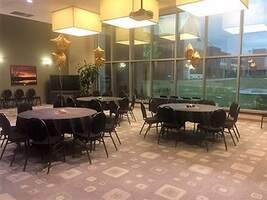 The Annex will seat up to 80 banquet style, 100 theater style or 30 in a horseshoe setting. This room works well for presentations, meetings, dinners or receptions. It is equipped with a projector, sound system and connections for your laptop computer. Floor to ceiling windows provide a view of our beautiful campus grounds.
conference rooms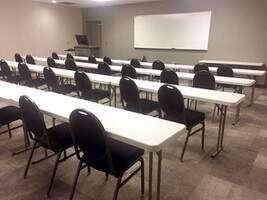 When your group is small, our conference rooms are just what you need. Admin Room 170 is equipped with a computer and projector, and will hold 32 classroom style or can be set up in a horseshoe or hollow square. Located behind our Administrative Building grand staircase, this room is conveniently close to the Hawk's Nest Caf and the RiverHawk Shoppe Bookstore.
Admin Room 116 is a smaller conference room with a view overlooking our wooded campus. This room does not have A/V and can seat up to 14.
The Optometry Board Room is a high-end board room with A/V built-in which can seat 24. It is located in the Education building. Attached to the board room is a smaller break-out room which can accommodate 10. It can be used in conjunction with the board room or separately.
Auditorium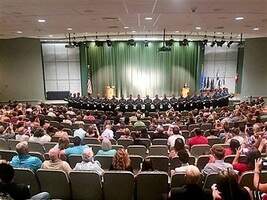 The auditorium has 388 seats with optional writing desks and a large stage suitable for lectures or performances. It is equipped with three projectors, sound system, wireless microphones and variable lighting options. The auditorium has a backstage green room, dressing areas, and a ticket booth. We even have a baby grand piano available for concerts and recitals.
visitor center gallery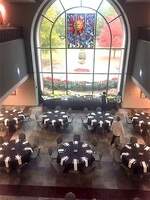 The Visitors Center Gallery houses changing art displays and provides a perfect setting for weddings, receptions or luncheons. It will accommodate 96 guests at round tables and features a two-story arched window with a stained glass installment and a view of our beautiful grounds. Portable media is available for this room on request.
classrooms
Our classrooms range from a seating capacity of 32 to 80 and are both flat and tiered. These rooms are a perfect setting for training sessions. State-of-the-art technology is available in every room.