NSU Family Program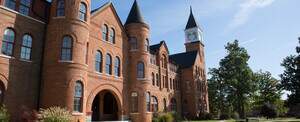 Greetings from the NSU Family Program!
You are committed to helping your student achieve success in college, and so are we. We believe that connected, well-informed families are vital to NSU's success.
At Northeastern State University, the administration, faculty, and staff work together to help each student identify individual educational and career goals and engage in college experiences that prepare them to become successful, productive citizens. Check the resources available on our campus to assist your student learn and develop during the next several years. We are a partner in helping your student achieve self-advocacy and problem-solving skills and we are available to suggest resources and answer your questions.
Mission
The mission of the NSU Family Program is to engage families as partners in education with the NSU Community and to provide resources to all NSU family members to aid in supporting student success.
Program Goals
Educate students and families on student growth and networking patterns through college years.
Foster partnership with families in providing a quality educational experience that supports student success.
Promote programs and services that best meet the needs of students and their families.
Support and encourage members to be informed, effective ambassadors for NSU in their local communities.
Become a financially self-sustaining program by obtaining external funding resources through donations, grants, and Family Program contributions.
Become a nationally recognized Family Program for regional institutions across the United States.
Aid in university recruitment efforts through family support.
Serve as a central hub for fielding inquiries and problem solving for families.
Obtain input from families on university policies and procedures.
Parent & Family Association
The NSU Family Association is designed to provide a formal organized outlet for parents and families to engage in the university experience through networking with other parents and campus community at a deeper level than the general population.
Members of the NSU Family Association will receive:
Retail discounts to the RiverHawk Shoppe, community businesses, and more.
Parent & Family Program promotional items like decals, stickers, t-shirts and more.
Invitations to special events for Parent & Family Association members.
Reserved seating or discount tickets for university events such as Sequoyah Institute, concerts, summer shows, and athletic events.
Opportunities to volunteer with programs and activities involving their students.