Rookie Bridge Camp Volunteers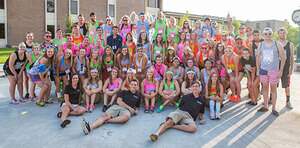 Northeastern State University student leaders volunteer as camp mentors, led by a team of student directors. This team puts in more than 500 volunteer hours each planning, preparing and promoting Rookie Bridge Camp throughout the summer.
Student Philosophy
A major portion of the program responsibility is shared with the student leaders. They are selected through a competitive interview based on their participation in college functions, knowledge of the institution, leadership potential, and their interest in the program. In the selection process, attempts are made to select leaders who represent a cross-section of our student body.
Student Directors:
Ashley Taylor, Justin Pitman, Carter Wisdom, Josh Smith