Cabinet and Executive Council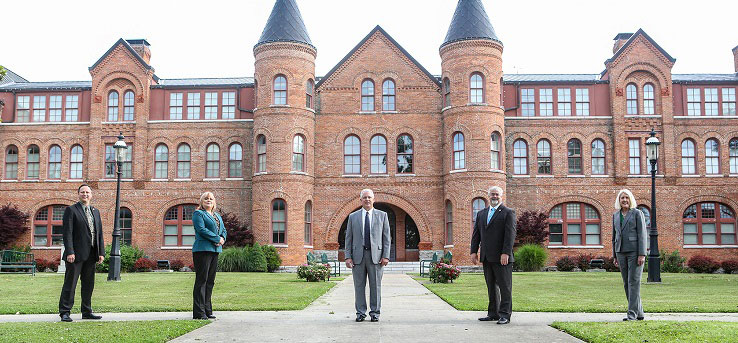 CABINET
The President's Cabinet serves as NSU's official policy-making body and makes recommendations to the president. The Cabinet meets weekly.
The objectives, purpose and intent of the President's Cabinet includes the following:
Enhance communications, shared governance, participatory decision-making, cooperation and coordination across the university;
Formulate, implement and manage policies and procedures;
Plan and participate in resource allocation decision making;
Support the university's succession plan at the executive level;
Operationalize the strategic plan;
Discuss and monitor the safety and well-being of students, faculty and staff;
Manage special projects and initiatives; and
Advise and assist the president regarding important decisions that impact the institution, including those matters that go before the Board of Regents for the Regional University System of Oklahoma.
Meetings of the Cabinet serve as the president's regular staff meeting. It is an important venue and working group used to advance the university.
The specific positions that make up the President's Cabinet include the following:
President
Provost/VP for Academic Affairs
Vice President for Administration and Finance
Vice President for Student Affairs
Vice President for University Relations
Executive Council
The Executive Council provides an important venue to share information that enhances the role of the Cabinet and allows for a comprehensive view of institutional needs.
This extended group includes:
Cabinet
Special Assistant to the President
Athletic Director
Foundation-Executive Director
Faculty Council President
Staff Council Chair
Director of Public Safety
President of the Northeastern Student Government Association (NSGA)
Formal minutes of Cabinet and Executive Council meetings are not kept. However, meeting notes are produced and posted so that the university community can access and read them. The decorum for Cabinet and Executive Council meetings favors informality with the intent of eliciting candor, open discussion, information-sharing, and facilitating team-work, and consensus-building.