Investiture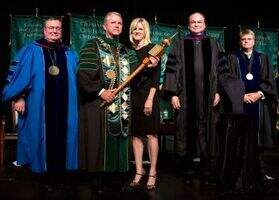 Dr. Steve Turner
Watch the Investiture of President Steve Turner. Recorded live on October 4, 2012.
Investiture of Dr. Steve Turner
Dr. Steve Turner was officially installed as Northeastern State University's 19th president during an Investiture ceremony Oct. 4, 2012, at the Center for the Performing Arts on the Tahlequah campus.
Turner comes to NSU as a continuing part of what his wife Penny calls a "fabulous journey."
"Our time in Tahlequah is another chapter in our lives. We want NSU to know that we are committed to this university," she said. "We want to be involved as much as possible with the students."
Prior to his NSU appointment, Turner served as vice president for administration and finance and executive assistant to the president for governmental relations and economic development at East Central University in Ada, Okla. Turner began his career in higher education at ECU in 1989, serving in many capacities, including campus police officer, tenured professor and chair of the department of human resources.
Turner earned his doctorate in adult learning and higher education administration from the University of Oklahoma. He holds a master's degree in human resources with an emphasis in counseling and a bachelor's degree in criminal justice with an emphasis in law enforcement and minor in counseling, both from ECU.
Oklahoma State Regents for Higher Education Chancellor Glen Johnson, as the keynote speaker for the investiture ceremony, spoke about his experiences working with Turner.
"It has been my privilege to work with President Steve Turner when he served as a member of the senior leadership team at East Central University," Johnson said. "I was very impressed by his dedication to the mission of both East Central and of higher education."
Johnson also acknowledged the importance of NSU as part of Oklahoma's higher education system.
"Today, Northeastern State University continues to play a very vital role within our higher education system," he said. "That role is as an innovator, a creative partner and certainly a very dynamic leader in preparing students here and students from across our state for success."
NSU Provost and Academic Vice President Dr. William Rugg was the master of ceremonies and spoke of its importance to NSU.
"This event, with all its traditions and rituals, is a time to celebrate our university and its heritage as we mark a change in passage in leadership," Rugg said. "It is a time to renew our commitment to the values and goals that have helped this extraordinary university thrive for more than a century."
Northeastern State University was founded in 1846 as the Cherokee National Female Seminary, opening its doors in 1851 as the first institution of higher learning in Indian Territory at Park Hill. When the seminary burned to the ground in 1887, the Cherokee Council rebuilt north of Tahlequah at the current campus location. Dedication ceremonies for today's Seminary Hall were held on May 7, 1889.
"Today is a day to remember and celebrate our past and look to our future with hope and aspiration about what is ahead," Dr. Turner said during his remarks to the crowd. "Today, we recommit ourselves to providing a quality education to those students we serve and to those we will serve."
Dr. Turner brought a theme of inclusion to the ceremony through the musical choices. The processional song "Home" by Phillip Phillips was selected by the student body at NSU.
"America the Beautiful" was performed in Cherokee by the Cherokee National Youth Choir. This selection honors a Cherokee book of hymns originally interred in the first Cherokee National Seminary at Park Hill, Indian Territory on June 21, 1847.
And the recessional song was "Auld Lang Syne" performed by the NSU Brass Ensemble. This was the same song selection performed during the cornerstone ceremony for the Seminary Hall on April 25, 1888.
Dr. Terry Matlock, Chair of the Regional University System of Oklahoma, expressed optimism about Turner's leadership as NSU moves forward.
"Dr. Steve Turner will be a president of diligence, vision, integrity and wisdom," he said before presenting the medallion.
Others speaking during the ceremony included Cherokee Chief Bill John Baker, United Keetoowah Band of Cherokee Indians Chief George Wickliffe, Faculty Representative Denise Deason-Toyne, Staff Representative Amanda Chappelle, Student Representative Thomas Teague and Alumni Representative Stephen Highers.
A public reception at the University Center followed the ceremony.
President Turner's Bio
Watch the Investiture of President Steve Turner. Recorded live on October 4, 2012.