What can I do with a major in Applied Physics?
Applied Physics
The Applied Physics program at NSU is a program that offers rigorous curriculum and flexible career choices. The program provides both fundamental courses that lead to a deep understanding of physics and hands-on courses where students learn practical technical skills.
An undergraduate degree in Applied Physics provides flexible career opportunities such as graduate school, engineering or high tech companies. It will prepare students to excel in technical careers based on a background of physics, mathematics and computer science.
Career Opportunities
Aeronautical Engineer
Biophysicist
Environmental Research Analyst
Nuclear Engineer
Physicist
Sustainability Specialist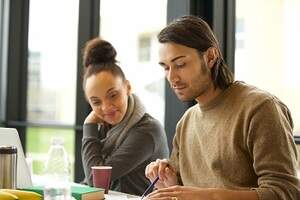 4th Largest Four-Year Public Institution in Oklahoma
Scholarships and Financial Aid are Available
170+ Businesses Send Recruiters to NSU Each Year
Accelerated Degree Plans
Connect with NSU Career Services