Request Student Business Cards
Student Business Cards
Open the link below to complete the request for student business cards.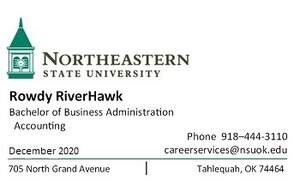 General Instructions and Exclusions
Must be currently enrolled or recently graduated within the current academic year and have an active Handshake account with NSU Career Services.
Due to the limited nature of business cards, certifications, honor societies, organizations, campus departments, job titles and web address information cannot be listed.
Students will not be allowed to add any certifications after their name.
Compliments of Career Services, student business cards are limited to 10 unless additional cards are requested to attend a Career Fair/Event. Requests of more than 20 cards require the purchase of a $5 NSU business card holder. The cardholder is available for purchase at either Career Service Office location.
Please allow 24 business hours for processing.
*NOTE: Please note Career Services will be closed and unavailable to print business cards on the day of any major career event or job fair. (See Career Events for these dates)
For additional information and/or assistance, please call Career Services:
Tahlequah 918-444-3110
Broken Arrow 918-449-6168
CONNECT WITH NSU CAREER SERVICES!