Publications
RiverHawks Weekly (RHW)
RHW contains a weekly calendar of events, notices of campus events, important information for faculty and staff, and updates on news from each of NSU's three campuses.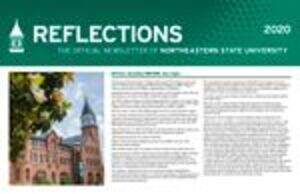 Reflections
Reflections is the official newsletter of Northeastern State University with information on campus events; faculty, staff, and student achievements; and other university news.
Centennial Book
Released in conjunction with the NSU Centennial Celebration, Roots from the Cherokees covers 180 years of history, from the institution's 19th century origins through the 2009 Centennial Celebration.