Living Learning Communities
Living Learning Communities
What are Living Learning Communities?
NSU offers 7 interest-specific Living Learning Communities or LLCs where students live together in a dedicated area of our residence halls. Each LLC is co-sponsored by an academic program, department or student organization. Each LLC is designed to deliver a variety of events and services to support students in their academic and personal growth outside the classroom.
There are three types of LLCs:
Freshmen- communities geared towards first time, freshmen students and the first year experience program
Blended- communities that are a blend of students of all classifications, majors, programs and backgrounds
Upper Class- communities built for sophomore and above students.
2018-2019 LLCs
Academic Triumph
Population: Blended
Location: Cobb Hall
The Academic Triumph community specializes in assisting students with succeeding academically by promoting in-hall tutoring, study groups and visits from faculty, instructors and academic advisors. Residents of this community must be determined to improve or succeed academically through their selected college or program.
Programs/Events:
In-hall tutoring with other students or through online resources.
Extended quiet hours regulations within the community.
Academic programs such as guest lectures, hands-on activities, social networking opportunities and financial guidance.
Cherokee Promise Scholars
Population: Blended
Location: Wyly Hall
Comprised of Cherokee Nation citizens, the Cherokee Promise Scholars are students working cohesively to develop language, historical and heritage fluency while accomplishing their own undergraduate goals. Since its start in 2010, the Cherokee Promise Scholars are sponsored by the Cherokee Nation and supported by the Center for Tribal Studies, selection and placement into the program is determined by officials within the Cherokee Nation in collaboration with Housing & Residence Life.
Programs/Events:
weekly and monthly group meetings for scholars.
cultural programming for or by Native American students.
Community for Artistic Expression
Population: Blended
Location: Cobb Hall
This LLC is concentrated on providing an environment where the freedom to promote or purse creative expression flourishes. Students involved in this LLC include individuals that promote expression through dance, acting, writing, music or graphic design. Activities and programs are designed not only to explore personal growth in an individuals talent but to also expose the residential community to artistic expression.
Programs/Events:
Annual talent show or art exhibit.
Workshops, hosted by university or local artists.
Individual Wellness
Population: Freshmen

Location: Cobb Hall
The Wellness Community is focused on freshmen students to promote physical and mental wellness or improvement. Collaboration with faculty and staff from the RiverHawk Wellness Center, Health and Human Performances department and HawkReach Counseling Services will provide strong support and activities for first-year residents.

Programs/Events:
Community fitness classes at the RiverHawk Wellness Center or within Cobb Hall.
Monthly fitness evaluations, advisement and fitness planning.
Activities or workshops to promote healthy living.
Panhellenic Council
Population: Upper Class

Location: North Leoser Hall

Programs/Events: NSU's three traditional sororities, Sigma Sigma Sigma, Delta Zeta, Alpha Omicron Pi as well as the Christ-centered organization Kappa Phi, call North Leoser home. These organizations embody the characteristics of a student who is philanthropic, successful academically and thrives in leadership positions. These LLCs have a long-standing history with Housing & Residence Life and are our most successful groups on campus.
RiverHawk Communities
Population: Blended

Location: Leoser Hall, Seminary Suites & Cobb Hall

Programs/Events: Student Athletes are housed in small clusters throughout the communities in Seminary Suites and Cobb Hall. These clusters allow for the athletes to bond as teammates and to also integrate themselves in the community around them. Student athletes interested in residing in a cluster are encouraged to contact their team coaching staff or the Assistant Athletic Director of Administration for more information.
Student Gaming
Population: Blended
Location: Cobb Hall
This community provides an environment that is hospitable to students of all classifications that have a personal interest in social gaming, either console, board or web-based. Specific locations will be designated for residents to play or watch social game events. Activities of this community will support the positive outcomes the gaming industry can provide to the world as well as allow the natural creativity of exploration to flourish.
Programs/Events:
Console, board and web-based gaming tournaments.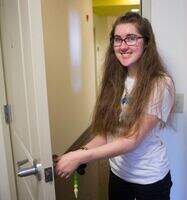 Why should I live in an LLC?

Living in an LLC comes with several great benefits. Students in an LLC are given opportunities to live and connect daily with students who share common interests, hobbies or career paths. LLCs give students a chance to expand their personal views through exploration and collaboration with campus departments, academic programs and student organizations. Students who live in an LLC will have more face-to-face interactions with faculty and advisors and studies show students in an LLC have a higher GPA that other on-campus students.

Applying for LLCs

Each LLC has a limited number of positions available, so it is important to apply early. Some LLCs are open to students based on classification (freshmen, blended or upper class) and other LLCs are open to students of a specific program or organization. Picking an LLC is as easy as completing your Housing application online!