Residence Handbook
Res Life Handbook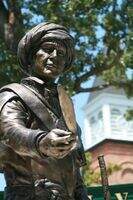 The Residence Life Guide to Living On-Campus was created with the residential student in mind. It provides important information about living on campus, our policies and procedures, housing contract terms and conditions, and general community standards for all resident students at NSU. We urge you to familiarize yourself with this material as soon as you arrive on campus.
Residence Life Handbook (Google doc)
---
Our Community
Mission
The Housing and Residence Life Department's mission is to providing students with a safe, comfortable and well-maintained living space in an academically and socially enriching environment. We are engaged facilitators educating the residential student population to challenge and support students towards academic and personal growth and development.
Vision
Housing and Residence Life at Northeastern State University will provide comfortable and safe living environments where students are individually and collectively challenged and supported on the path to become mature, contributing citizens in a dynamic, diverse, and global society.


Values
Care We value care as the foundation of how we approach our work and how we treat others, including residents, guests, fellow employees and campus partners. Included is the safety and security of our facilities and services.

Community - We value opportunities for impactful learning, growth, and innovation through active and intentional development of the community.

Inclusion - We all share the responsibility of being respectful and welcoming to everyone we encounter to support cross-cultural understanding and diversity for our student population.

Leadership- We value residents personal growth through leadership and seek to develop responsible leaders committed to the common good.

Learning- We value academic and personal success for all students. This value is exemplified through our emphasis on engagement and education outside the classroom and ensuring a dynamic residential setting where discovery, innovation, challenge and support, and respectful debate are foundations to the on-campus experience of the student.

Collaboration- We value the exchange of ideas and solutions through internal and external partnerships. This value is exemplified through the enhancement of the residential experience through training, community building, policy development, and integration of services.

Housing and Residence Life Staff
The Office of Housing & Residence Life and Residence Life staff team consists of students, paraprofessionals and professionals who are here to assist residents, students and guests. Our team consists of the Assistant Director of Residence Life, Information Systems Manager, Residence Area Coordinators, Student Hall Directors, Resident Assistants, secretaries and student assistants.