Circle of Excellence Honorees - Employee Recognition
Research, Service, and Teaching award recipients will receive a brick bearing their name and award to be placed within the Circle of Excellence in front of Seminary Hall. They will be included in a formal display in the Tahlequah Administration Building and will receive their choice of a $2,500 check or $2,500 in program funds.
For more information and past honorees visit Faculty Council Circle of Excellence.
Research
Dr. Alissa Proctor
Service

Dr. Halil Kaya
Teaching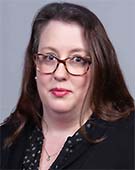 Dr. Suzanne Farmer