Refunds
Make Your Refund Selection
All students must select their refund preference online. To choose your refund preference:
Log in to goNSU
Under the Quick Links box, click the My Account icon
Click the eRefunds tab
Click the Make Your Refund Choice button
A new window or tab will open, displaying the available refund options. Choose your preferred refund method and follow the prompts to complete setup
If no refund preference is selected, a check will be mailed to the permanent address on file with NSU.
For additional questions, visit our FAQ page.
Please Note: If you have not set up a refund account since Fall 2016, you must select a preference with this method.
Refund Methods
Students can Choose to receive refunds from NSU via Direct Deposit. Log in to goNSU and click the MY Account icon for more information or to make your selection. If no selection is made, a paper check will be issued to the permanent address on file.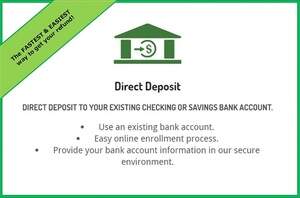 Refund Information
A student who drops individual classes or completely withdraws during the first two weeks of the regular fall/spring semester or during the first week of the regular summer semester is eligible for a refund of tuition and fees. There is no refund for classes dropped after the Census date.
Besides withdrawing from classes before the Census date, there are other instances in which students may receive a refund from the University. Please visit our FAQ page for more details.
Please Note:
A refund from the University does not guarantee that the account holder has a zero balance. There are instances when a refund could be issued even though a balance is still owed by the account holder. For example, Non-institutional charges such as books, parking fines and decals, late charges, etc. cannot be paid from Title IV financial aid unless authorized by the student. Account holders are responsible for monitoring their accounts for this situation should it arise.
Refund Schedule
Refunds for dropped classes are calculated based on the day the official withdrawal is filed in the
Registrar's Office
(in person, by fax or by post mark date), not when the student stopped attending classes. A credit will be issued to your Bursar account for the full amount if the class is dropped within the time listed below.
16 week class - First day of class through the tenth business day
8 week class - First day of class through the fifth business day
4 week class - First day of class through the third business day
2 week class - First day of class through the second business day
Weekend course - First day of class
CHOOSE YOUR REFUND METHOD
Log into your bursar account to select your refund preference!