On Campus Student Employee Supervisors
Supervising a student worker provides a great opportunity to help our NSU RiverHawks become Career Ready. NSU Career Services in partnership with Financial Aid have worked to refine the student employment process to provide a variety of resources and training for your students while streamlining the posting and hiring process. To post an on-campus student position simply fill out this Google Form and all positions will be posted on Handshake. Stay tuned as we develop training resources for your students!
Already hired a student worker but need to complete a student employment agreement? Use this form:
Request a Student Employment Agreement
Do you have a Student Employment Agreement that needs to be terminated? Use this form:
Student Employment Termination
How do I post an on campus job?
Contract Dates for FY 2022 - 2023

Summer agreements end: August 6, 2022

Fall agreements start: August 7, 2022

Fall agreements end : December 24, 2022

Spring agreements start: December 25, 2022

Spring agreements end: May 13, 2023

Summer agreements start: May 14, 2023

How will I know someone has applied for my position?

After a student applies for a student job, Handshake will notify the hiring supervisor via email with the application package with a link to open applications in a ZIP or pdf file (see below). If you do not receive an email, contact Career Services at careerservices@nsuok.edu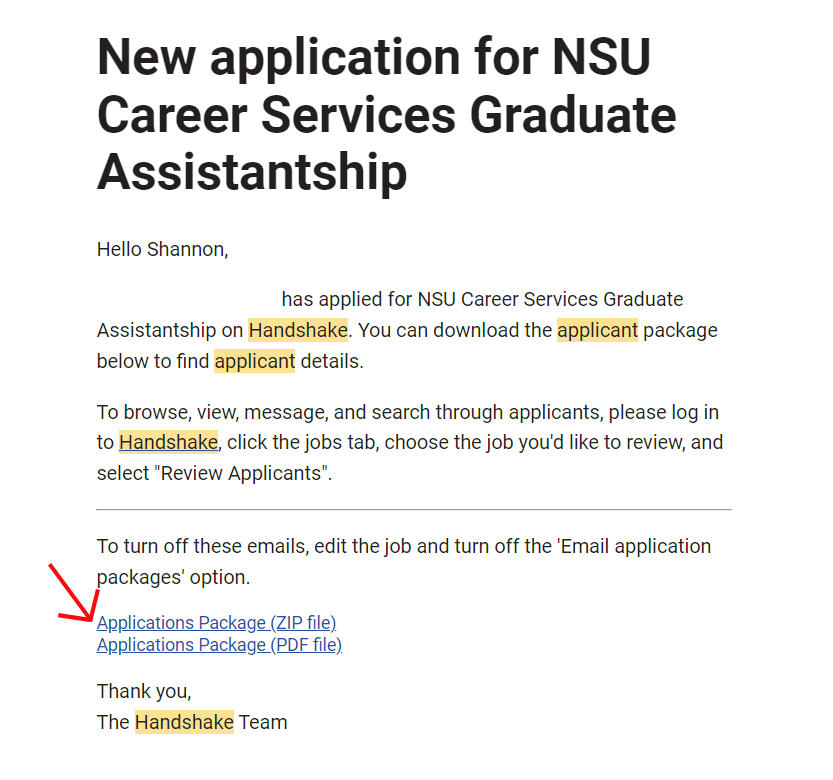 What kind of agreement do I request for a Graduate Assistant?

To request a Graduate Assistant you will submit the same On Campus Student Employment form as an undergraduate student position but will have to provide a position number that has been provided from the Graduate College. After hiring, the Graduate College will have additional steps to complete. To obtain Graduate Assistant position numbers contact the Graduate College x2223.

Does a student have to be enrolled for the Summer semester to work in the summer?

If the student was enrolled in the past Spring semester (even if they have graduated in Spring), and/or are enrolled in the upcoming Fall semester they may work Summer as an Institutional worker. If they are an International Student the same rules apply, but if they have graduated in the Spring they may not work the Summer. All work study students must be enrolled in six (6) credit hours.

Can concurrent students work on campus?

Yes, but they may only work Institutional positions. It is requested to not allow concurrent students to drive state vehicles or work a hazardous position.

When can a student start working?

Student workers should not begin employment until you have a signed Student Employee Agreement sent to the Payroll Office. It is requested this be completed 3 days prior to start date. If they are a new-hire employee, their new-hire packet MUST be complete and turned in to the Student Financial Services Office three (3) days before starting work.

Where can I access New Hire Paperwork?

Student worker new hire forms can be found here. These need to be completed and submitted three (3) days prior to the student employees start date.

I need to terminate a student worker agreement, what do I need to do?
** NOTE: To fill out all PDF forms: Save the form, open in Adobe Reader and then fill it out and print or send. DO NOT use these forms for a Graduate Assistant (PAF is required).
HELP DEVELOP POWERFUL CAREER SKILLS
Whether you know it or not, on campus jobs not only support office and campus functions but have the ability to provide students lifelong Career Readiness skills. These skills broadly prepare college educated for success in the workplace and lifelong career management (NACE). Student workers on campus have the ability to hone in and practice the following skills to make them career ready! Be on the lookout for training opportunities for student workers to support them in bridging their experience through on campus positions to careers!