Tahlequah Conferences and Events
Request Event
×
BOOK THE PERFECT VENUE FOR YOUR SPECIAL OCCASION AT NSU TAHLEQUAH
The venue sets the tone for your event and is an opportunity to give guests a positive first impression. We know that finding the perfect accommodations can be difficult, so we take great pleasure in making that process as easy as possible for you. NSU offers over 40,000 square feet of versatile space that we are certain can accommodate almost any need.
---
University Center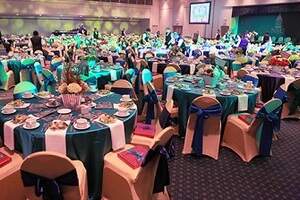 The University Center serves as a central hub for NSU students, faculty, staff and community visitors on our Tahlequah Campus. With 11 meeting facilities located within, it is an ideal location for larger events needing numerous breakout session locations. The Barnes and Noble RiverHawk Shoppe and several of our on-campus dining options are also housed here. The Sen. Herb Rozell Ballroom is the largest facility in the University Center. With a total of 9,600 square feet of versatile meeting space, the Ballroom can be separated into three equal sections to provide individual spaces or to be used in its entirety for a larger event. It also features a 2,500 square foot covered terrace that is perfect for a cocktail hour or wedding reception that desires an outdoor environment.
Event Center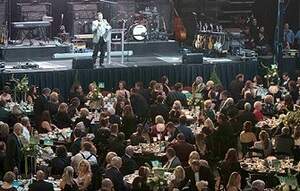 Built in 2013, the Event Center features a 14,000 square foot multipurpose arena and large meeting space. Home to our NSU RiverHawks athletic teams, the Event Center is designed to host various concerts, banquets and trade shows. This building also houses the Tahlequah Event Center that features floor to ceiling windows, which look out toward the Doc Wadley Football Stadium. As our third largest event facility, the Tahlequah Event Center comfortably accommodate 150 guests. This space also has full multimedia capabilities and ample onsite parking.
Second Century Square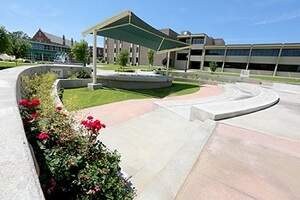 NSU's primary outdoor venue, Second Century Square, offers a picturesque setting for your guests. Featuring a fixed stage and amphitheater seating, this space can accommodate a variety of events.
W. Roger Webb Educational Technology Center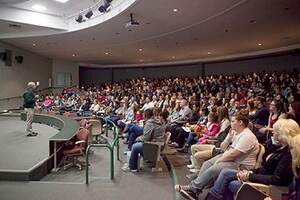 With stadium style seating for just over 300 guests, the Webb Auditorium is an excellent venue of choice for lectures and presentations. This space features an integrated audio/visual system and a fixed stage, which allows for optimal quality of your event. The Webb Tower offers breathtaking views of our campus and The North End District of downtown Tahlequah.