Northeastern State University Student Handbook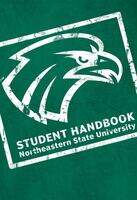 Welcome to Northeastern State University. We are excited to have you actively contribute to our campus culture of learning and engagement. The student handbook is designed to serve as a reference to campus life. The information in this handbook is not all inclusive and is not designed to serve as a contract between NSU and students. It is highly recommended to contact the appropriate department for the most up-to-date information.
Download the Student Handbook (pdf).
Disclaimer: This handbook does not constitute a contract between the student and the university. Every effort has been made to provide students with complete, and accurate information. The university reserves the right to modify, amend or revoke any rules, regulations, financial schedules and to change programs and requirements.
Disclosure: University policies and procedures can be found in their entirety in the Office of the Vice President for Student Affairs, Administration Room 204, Tahlequah, OK. Some policies (e.g., academic) may be in other locations. Students requesting a copy of a policy will be directed to the appropriate area.