HawkReach Counseling Information for Students
How Can HawkReach Counseling Services Help Students?
Counselors are available to assist students, either directly or through connections to campus and community resources, with the following issues:
Adjusting to College Life
Depression
Anxiety
Stress
Sexuality Issues
Suicidal Thoughts
Rape or Sexual Assault
Alcohol and other Drugs
Relationship Problems
Pre or Post Deployment Issues
Academic Concerns like choosing a major
And many more...
HawkReach Student Services provides counseling that usually consists of up to 12 weekly sessions. Students who may require long-term counseling or medication management can also be assisted in finding appropriate off-campus services.
HawkReach Student Services does not provide learning disability evaluations, ADHD/ADD assessments or letters recommending emotional support animals. Counseling services does not provide services related to court testimony or legal proceedings.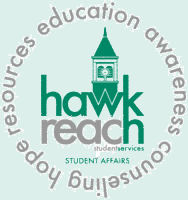 Take Action
During regular office hours any student can make an appointment by calling 918-444-2042 or walk-in to make an appointment that accommodates your schedule. Students may also use the Appointment Request Form
Services offered:
One-on-one confidential counseling
Referrals to campus and community resources
Educational programs
Crisis Intervention
Worried about a friend?
If you have a friend or fellow-student whom you are concerned about, please call, drop by our office, email or you may use the Report a Concern to submit a report. We have a variety of ways to reach out to our students and will be happy to talk about your particular situation.
In the case of an emergency,
such as a student who has told you they are suicidal or homicidal, immediate action is necessary. This can be accomplished by taking the student to the HawkReach office, by calling the office, or by contacting University Police at 918-444-2468.
Contact HawkReach
Broken Arrow Campus
Hours: 8:30 a.m. to 6 p.m., Monday - Friday
Phone: 918-449-6131

Location: Administration Services Building, First Floor
Directions Broken Arrow HawkReach
In Case Of Emergency
NSU Campus Police: 918-444-2468
Local Police: 911
National Suicide Prevention Lifeline: 1-800-273-TALK