HawkReach Counseling Services
Make an On Campus Appointment for Counseling Services

Appointments are available Mon. - Fri. 8:00 a.m. - 5:00 p.m. CST for enrolled students. To schedule an appointment for either the Tahlequah Campus or the Broken Arrow Campus call 918-444-2042.
Online Student Appointments
Remote Counseling Sessions are available for qualified students Mon.-Fri. 8:30 a.m. - 5:00 p.m. CST.
To schedule a remote counseling appointment for either the Tahlequah Campus or the Broken Arrow Campus call 918-444-2042.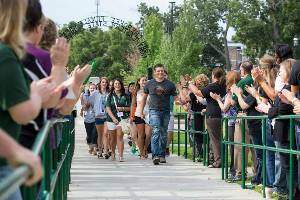 Success as a student means so much more than just making good grades. Work, relationships, stress, adjusting to college life, and so many other factors can challenge us and at times make success more difficult. In these times of need, HawkReach Counseling Services can help.
HawkReach Counseling Services offers free confidential counseling to all enrolled students. While it is often difficult to talk about the problems we are having, from time to time we can all use a little bit of help managing issues in our lives. Making commitment to the process really can make a big difference in our day to day lives.
The staff of Counseling Services encourages and practices inclusiveness, and we strive to be respectful of the diversity of our students regardless of age, ability, gender, sexuality, religion, ethnicity, or other differences.
In an ethical manner consistent with the University and Departmental missions, we support and prepare individuals for the personal, interpersonal, and academic challenges of life in college and beyond.
Talking about wanting to die or to kill oneself

Looking for a way to kill oneself, such as searching online or buying a gun

Talking about feeling hopeless or having no reason to live

Talking about feeling trapped or in unbearable pain

Talking about being a burden to others.

Increasing the use of alcohol or drugs

Acting anxious or agitated; behaving recklessly

Sleeping too little or too much

Withdrawing or feeling isolated

Showing rage or talking about seeking revenge

Displaying extreme mood swings
Suicide Prevention/Crisis Hotline

Campus Police
918-444-2468
Tahlequah Police
918-456-8801
IF THIS IS A LIFE THREATENING SITUATION, CALL 911.