NSU Admissions and Recruitment
Our Spring 2023 , Summer 2023, and Fall 2023 Undergraduate Admissions Applications are NOW OPEN!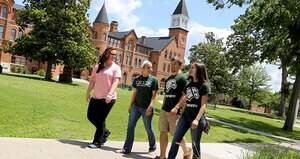 Northeastern State University is Oklahoma's fourth-largest public institution, with three campuses and online programming. As the oldest institution of higher education in Oklahoma, we offer strong academics focused on career readiness and the third-lowest tuition of any university in the state.
With a wide variety of options, you can select from 56 exceptional undergraduate and 25 graduate degree programs. We are also the proud home of the Oklahoma College of Optometry, the only optometry school in Oklahoma and one of 21 in the nation. The ultimate goal for our students is success as we strive to exceed expectations from first contact to graduation, career placement and beyond.
Follow us on social media
After Admission
What's Next? Now that you've been admitted to NSU, it's up to take your next steps.
2022 - 2023 Events
Native Strong Day: January 20, 2023
RiverHawk Jam/Spring Preview Day: February 18, 2023
Multicultural Recruitment Day: TBD
Music Day at BA: March 24, 2023
RiverHawk Hype/Admitted Student Day: April 1, 2023
VIP Junior Day: April 11, 2023
RiverHawk Transfer Day @ BA: April 20, 2023
Admissions Representatives
Admission Representatives are assigned by location and student type. Whether a first-time freshman or a transfer student; our friendly staff can assist you in making the right decision for you.